Wandong Netball Club
WandongNetball@gmail.com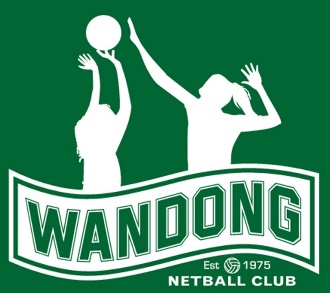 Name: Jo Pascoe
Email: wandongnetball@gmail.com
Information is posted on our Facebook page.
The Wandong Netball Club was founded in 1979 and has been an integral in local community sport ever since.
The Wandong Netball Club participates in the Kilmore & Broadford Netball Association (KBNA) competition. This is a junior competition with age groups 9 & Under (modified rules), 11 & Under, 13 & Under and 16 & Under. Most years the club has enough players to field multiple teams in various age groups.
The Club also hosts an all-ages pre-season training program in Term 1 each year prior to the announcement of teams and team training. This gives potential players the opportunity to enhance their skills and knowledge of the game prior to the season start and has been very popular with players.
Games are played from 9am Saturday mornings in terms 2 & 3, with approximately 14 rounds typically excluding long weekends and school holidays.
Teams play in various locations within the Mitchell Shire, with home games being played here at L.B. Davern Reserve Netball Courts. Other locations include Broadford, Kilmore, Pyalong, Seymour and St Pats.
Our aim is to help all participants experience personal achievements in terms of competence, enhanced self-esteem, social cooperation and skill development in a fun and safe environment.
The season culminates in a KBNA 9 & Under round robin and finals series for the older age groups.
In addition to competitive play, the Club runs a very successful NetSetGo Activities Program in term 4 each year which varies from an 8 to 16 week program dependant on court availability.
NetSetGo is designed and run for children aged 5-10. The program incorporates skill activities and modified rule matches. Children have the opportunity to pick up advanced netball skills. One week it might be passing drills and ball games, next it could be shooting and practice matches. All Suncorp NetSetGO sessions are led by a friendly netball coach, using equipment built specially for kids.
The Club objectives are to:
Promote the sport of Netball and provide knowledge and skills of the game

Provide members of Wandong and surrounding towns the opportunity to participate in a fun, healthy recreational activity and create an interest in the game

Teach life skills through play such as sportsmanship, tolerance, confidence, optimism and how to be an active member of a team

Create a continual supportive and safe atmosphere for all players to remain physically active, regardless of their abilities and ensure that every young person has the opportunity to play Netball in a safe, positive and friendly environment

Give a sense of belonging, pride and self esteem to every member of the Club
Wandong Netball Club Life Members are Diane Dickson, Maureen Delaney, Kath Willcockson, Margaret Ashford, Amy Perry and Lex Groves.
For all enquiries please contact Jo Pascoe via email: wandongnetball@gmail.com , or like us on Facebook - Wandong Netball Club