Wandong Fire Brigade

Rail Street, Wandong
Postal Address: PO Box 306, Wandong 3758
Phone: (03) 5787 1248

TRAINING – Wednesday Nights from 7.00pm
Captain: Yorin Miller
1st Lieutenant: Terry Roberts
2nd Lieutenant: Heath McSolvin
3rd Lieutenant: James Stephens
4th Lieutenant: Shane Moore
President: Sandra O'Connor
Secretary: Jen Moore
Treasurer: Michelle Kendrick
Communications Officer: Yvette Curlis
Community Safety Coordinator Kylie Shingles
Health and Safety Officer James Peake
Chairperson Sandra O'Connor
Training
Training is held on Wednesday nights starting at 7pm at the fire station. A training session is also held on the 3rd Sunday of each month. For more information contact Lt James Stephens on 0418 221 458.
Fire Fighting Equipment Sales and Service
Wandong Fire Brigade is able to sell you firefighting equipment for your business, home or vehicle. We can provide you with many types and sizes of Fire extinguishers, Fire Blankets and Hose Reels. All profits generated go directly to Wandong Fire Brigade to help us maintain our equipment.
Contact John Simpson on 0421 319 203 for sales or service.
Community Recruitment
Wandong Fire Brigade is always on the lookout for new members.
If you would like to join the Wandong Fire Brigade or would like more information, please email wandongcfa@hotmail.com or visit our Facebook Page
CFA Burn-Off Line 1800 668 511
Website: http://www.cfa.vic.gov.au/plan-prepare/burning-off/
DECEMBER 2022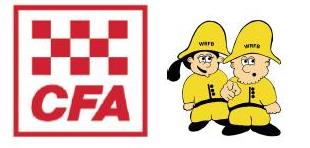 WANDONG FIRE BRIGADE
2023 Wandong Fire brigade Calendar
Wandong Fire Brigade has created a fundraising calendar for 2023 featuring many of your local firefighters
together with native wildlife. Calendars include a number of important dates and contact numbers.
These calendars are $15 each and may be purchased through our Facebook page or by contacting Yvette on
0417 545 228 or Susan on 0419 102 432. The perfect gift for the person who has everything, and an easy way
to support your local Volunteer brigade.
A Massive thanks to Narrelle Joy from Narrelle Joy Photographer for her amazing time and expertise to help us create this calendar. Also a special thanks to all the wildlife carers, Snake Safe Victoria, Peake family, Shingles family, Russell family and Joy family for lending their animals or properties for our photography shoots. Thanks to the Wandong Fire Brigade crew for the laughs and your time in creating the 2023 calendar.
The Fire Season has been declared for Mitchell Shire
The Fire Season is due to begin declared on 00.01 of 19th December 2022 and will continue until 1st May 2023,
unless revoked earlier. You cannot light a fire in the open air without written permit from CFA or a Municipal Fire
Prevention Officer. If we attend an illegal burn during this time the police will be called and fines will be issued. For information on what is allowed during the Fire Danger period and on Total Fire Ban days see http://www.cfa.vic.gov.au/warnings-restrictions/can/
Keep informed
The best way to keep yourself and your family safe is to be informed of any incidents or emergencies nearby. The free VicEmergency app is the official app for emergencies within Victoria. Users can see any emergencies nearby as well as setting up user defined watch zones. You are also able to see what is the Fire Danger rating is for the current day and the next three days.
Other sources of information can also be used to keep you informed, these include the CFA website, VicEmergency website and ABC radio
Get Your Property and Family Ready NOW
It is so important to prepare your property before and during the Fire Season, and perform regular maintenance. Write your Fire Plan and let everybody in the family know. What is your trigger to leave? What will you do on Extreme days? What will you do on Catastrophic days? What will you take when you evacuate? Where will you go? For information check out the CFA website. www.cfa.vic.gov.au
Training
Training restrictions have been lifted allowing training with greater number of members at one time. Training is Wednesday evenings and some Sundays. For more information contact Lt James Stephens on 0418 221 458.
Fire Equipment Maintenance
Installing and Maintaining your Fire Suppression Equipment is required under the Building Code of Australia. Trained Wandong Fire Brigade members volunteer their time to provide this service to the Community and in turn raise funds for the Brigade to purchase equipment that protects the Community. All servicing carried out is compliant with the required Australian Standards. Our Forward Command Vehicle and FEM trailer have been provided through the work of these volunteers, and local individuals and businesses utilising this important service. If you are in need of Fire extinguishers, hose reels, fire blankets or ongoing maintenance of your equipment contact John Simpson on 0421 319 203 to discuss your needs.