Local News
The hunt for a "Whats News" editor continues. Call 0413 832 411 now to register your interest or email: whatsnewsWHJ@gmail.com
Send Us Your News
We are interested in publishing worthy news stories about our local community.
CURRENT NEWS
Click the link below for the latest edition of Whats News
Click here to go to the Whats News page of the website which contains advertising costs and other information as well as the previous 12 editions of Whats News
Wandong - Heathcote Junction - why would you live anywhere else. Until October 2020, Allen Hall (editor)
NEXT ISSUE DEADLINE: COPY & ADS - 3 OCTOBER 2020 DELIVERY from 15 OCTOBER 2020
Printed by Newspaper House, Kilmore
CHANGES TO WHATS NEWS DELIVERY click here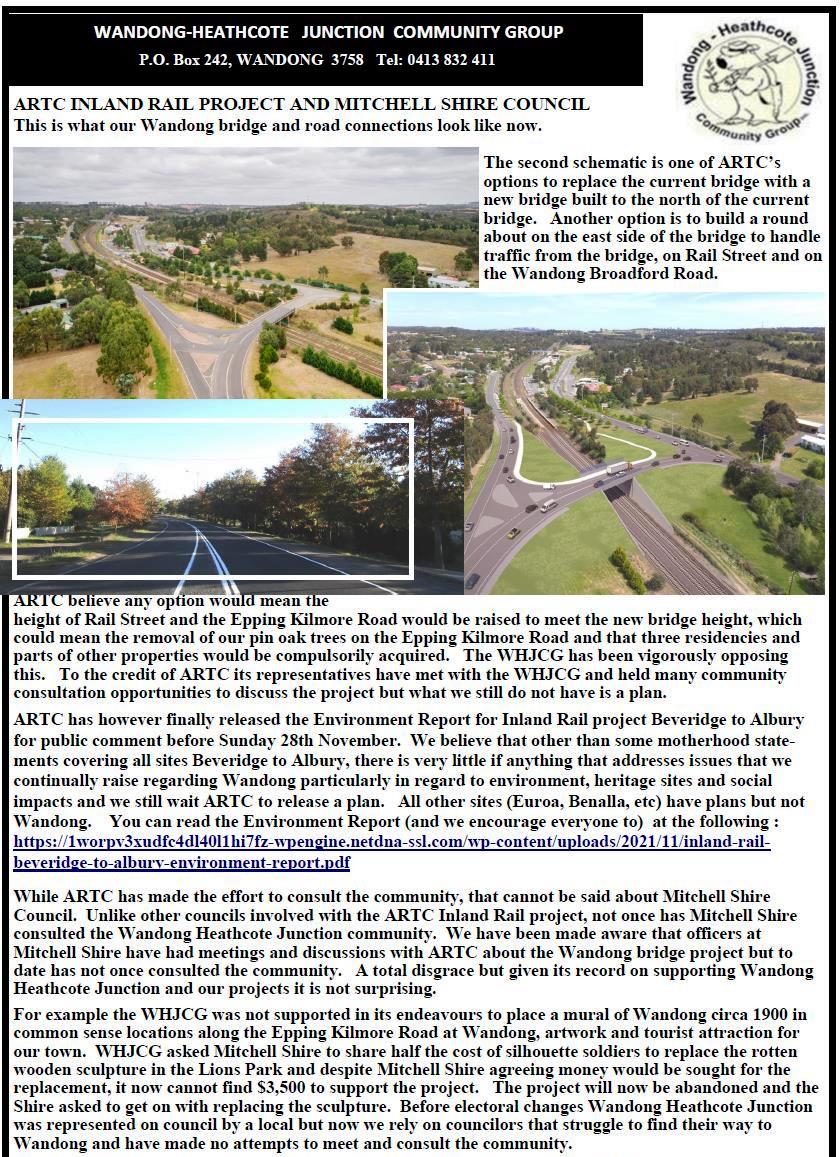 FATHERS DAY MEMORIES WITH JOE
Sunday was a Fathers' Day unlike any other. My usual drive in the spring sunshine to visit my parents' grave was not allowed. My elder "son" Sparky got me up at 6.00am for a "comfort break". He's getting old, and sometimes doesn't last through the night. I took a cup of tea and a biscuit back to bed with me, but Sparky had already settled back to sleep occupying most of the bed. After I persuaded him to move, I discovered between the sheets a little Fathers' Day present - maybe his idea of breakfast in bed. A well-matured bone which he'd been ageing for a few weeks in the soft ground under the hydrangeas. After changing sheets and drinking my tea now cold, I flicked on the TV to hear the depressing advance news of further lockdown. I changed channels to one where "Dad jokes" were the subject of discussion.
My Dad had more than his share of Dad jokes. Moreover, he loved to tease, especially by providing dubious answers to all the questions a little kid asks. There was one such incident I'll never forget. I was about four, and playing with the neighbours' labrador while watching Dad change a flat tyre on our 1934 Hillman Hawk, a big old car with a spare wheel carried on each side of the engine compartment.
"Dad," I asked, "What are tyres made of?" Without a pause, he answered, "Dogs' noses." I looked at the dog's nose and back at the tyre and at once saw the similarity. I was awfully fond of dogs, although we hadn't one of our own, and I took this news very badly. I ran in crying to Mum, imagining the pain of the great mass of dogs rendered noseless just to make a single tyre.
Of course Mum tried to tell me this was just one of Dad's nonsense answers. But I didn't believe her. My parents had form about this sort of thing, assuring me there was no connection between the sudden disappearance of my second-favourite hen and the roast chicken we had on Sunday. Sadly, I knew they couldn't be trusted.
To make matters worse, a house just a few doors away - a big old two-storied place - was occupied by a couple known as Mr Dunlop and Miss Evans. Whenever adults discussed this pair, they did so in hushed tones: the words "living in sin" were often heard. A huge cypress hedge obscured the house from view, which adults took as further evidence of improper goings-on within. I was told never to speak to these people.
In those days many dogs roamed free, and in coming days I observed several dogs make their way in through a hole in the hedge. I never saw one come out. Putting two and two together, I decided the "sin" adults were talking about was Mr Dunlop's harvesting of dogs' noses to make the tyres bearing his name. Devastated that this was taking place just four doors away, I even tried patrolling the hedge on my tricycle to deter unsuspecting dogs from entering.
Years passed, I started school and learnt the real origins of rubber. I forgot my suspicions about Mr Dunlop. Then one night some louts set fire to that big hedge, and although the fire station was right next-door, it was destroyed in a matter of moments.
Only then could it be seen that this was what the British call a "semi-detached". Two front doors were at either end - one marked "Evans", the other "Dunlop". My parents told me it was OK to speak to these neighbours after all. "I know," I said, "Because tyres are made from rubber, which comes from trees." I still remember how puzzled they looked.
Cheers for now and stay safe!
Joe, Sparky & Fidel.
GET "WHATS NEWS" BY EMAIL
If you would like to receive "Whats News" by email each month, send your name and email details to <whatsnewswhj@gmail.com>
"Whats News" will still be available each month at businesses in Wandong, Broadford, Kilmore, Wallan, Upper Plenty and Whittlesea and remember
"Whats News" is always made available on the <www.wandong.vic.au> website.
EPA's online help for farmers
Environment Protection Authority Victoria (EPA) offers online advice for the agricultural community, and is taking requests on what farmers need next.
The Agricultural Guidance section of EPA's website supports farmers in managing the farm in a way that minimises harm to the environment and human health, meets Victorian regulations, and keeping the property in good condition for the next generation.
It also includes a two-minute survey that lets farmers ask for the environmental advice they most value.
EPA's advice for agricultural community is at:
www.epa.vic.gov.au/business-and-industry/guidelines/agricultural-guidance
It offers advice on protecting the environment and human health; meeting Victorian law and regulations; and issues like livestock planning, farm waste, chemicals, noise, water, sediment and dust.
Anyone on the land can make a request or provide feedback, at: www.surveymonkey.com/r/EPAwebpagereview
Members of the public can report pollution by calling EPA's 24 hour hotline, 1300 EPA VIC (1300 372 842).
Litter is a burning issue
Flicking cigarette butt from car window a severe fire danger and environmental risk: EPA, fire and rescue services say.
With North East Victoria's fire danger period projected to continue into May, EPA, Country Fire Authority and Metropolitan Fire Brigade are calling for cigarette butt litterers to check their habit, and for members of the community to report this kind of littering.
Given that most human-cause fire incidents in Victoria are caused by lit cigarette butts, the potential cost to the community and environment is extreme. "EPA counts on members of the public to report people who flick their butts out of car windows," said EPA North East Region Manager Emma Knights. "Flicking lit cigarettes out your car window is a serious fire hazard, as recent fire tragedies across our state have shown. "And cigarette butt litter pollutes our roadsides and chokes our waterways," Ms Knights said.
The CFA regularly attends to fires caused by cigarettes, and some of Victoria's worst bushfire tragedies were sparked by cigarette butt litter. CFA Chief Officer Steve Warrington said roadside fires pose a "significant danger to drivers not only from smoke, but flames or falling burning trees or branches, and there's high potential for tragic consequences." Mr Warrington said more than half of Victorian bushfires are deliberately lit or caused by reckless behaviour. "One of the most common causes is inappropriately disposing of cigarette butts. "Recklessly caused fires are often viewed by the community as accidental, but in reality, the potential for injury, loss of life, property damage and drain on resources is the same as that caused by arson." Mr Warrington said. MFB Chief Officer Dan Stephens said that firefighters respond to more than 10 fires caused by carelessly discarded smoking materials every month across the Melbourne metropolitan district alone.
Last financial year, EPA handed out over $5 million in fines to more than 11,000 Victorians for discarding litter, mostly cigarette butts, from their vehicles. EPA litter fines range from $322 for a small piece of rubbish or unlit cigarette up to $645 for a lit cigarette.
People can report littering via EPA's website, through its smartphone litter app, or by calling 1300 EPA VIC (1300 372 842).

FRIENDS OF DISAPPOINTMENT
Are you interested in the history, conservation and community of the Mount Disappointment State Forest and
surrounding areas.
Join "Friends of Disappointment" to share history, photos and ideas.
https://www.facebook.com/
mountdisappointmentclonbinane/
Volunteers for Young Care Mentor Program urgently Needed
Have you got some spare time? Are you a good listener? Would you like to help a young person continue with their schooling? Not-profit organisation Villa Maria Catholic Homes has young carers in the Heathcote Junction area who desperately need support from an adult to help them cope with their day-to-day responsibilities.
Contact Marion Rak on (03) 5722 9046.
Do you consider commuting emails in your fatigue & working hours considerations?
With the installation of Wi-Fi on our rail system here is a study from the UK on extended work hours.
Researchers have suggested that as UK commuters are apparently so regularly using travel time for work
emails that their journeys should be counted as part of the working day. The study from the University of the West of England found wider access to wi-fi on trains & the spread of mobile phones has extended the working day.
The study involved interviews with 5,000 rail passengers on commuter routes into London as wi-fi
became more available. The study, presented this week at the Royal Geographical Society, found that
54% of commuters using train wi-fi were sending work emails. Those on the way to work were catching up with emails sent ahead of the coming day, while those on the return journey were finishing off work not completed during regular working hours. The study examined the impact of an upgrade to free wi-fi on the London to Birmingham & London to Aylesbury routes. It showed that as internet access improved it had the consequence of extending working hours, using laptops & mobile phones. Researchers suggested that smartphones & mobile internet access had caused a blurring of boundaries between work & home life, & this now applied to the journey to work. Instead of technology giving people more flexibility over working, the study showed that people were working extra hours on top of their time in the office. The head researcher from the university's Centre for Transport & Society indicated that it is a real challenge in deciding what constitutes work. Do you account for this in your work hour considerations? Your IT/Telco records will indicate this post incident.
TRAIL BIKE AND 4WD DRIVERS
Residents in Wandong - Heathcote Junction, particularly in Affleck Street and Dry Creek Crescent are getting no response from authorities to curtail the noise, parking problems and destruction of the Mt Disappointment State Forest by rail bike and 4WD drivers. It is no longer safe to walk or horse ride on the mountain trails due to these uncontrolled vehicles. Mt Disappointment could rival the Dandenongs for beauty and tourism but no authority seems prepared to stop the damage.